Welcome to Joyful Creations page of awesome and interesting animal facts and tidbits.

This page is designed as a support resource for parents, grandparents and anyone wanting to introduce children to the God of All Creation.

My goal in producing the Joyful Creation series is to reveal clear traces of God's handprint throughout this amazing world around us. I write and illustrate with the intention of pulling back the veil, and revealing the Author of Life. I believe young children can comprehend the truth of God's great wisdom and design when is made plain to them - establishing a solid foundation of looking to God for understanding.
Small children can either learn to take this amazing world for granted, or they can grow in curiosity, amazement and appreciation of the God of Creation, who loves them enough to send His Son Jesus to draw them into fellowship with Him.
---
Did you know that God, in His wisdom created beavers with iron in the enamel on the front side of their front teeth? That's why they're orange in color. They grow continually. The back side doesn't have the iron, so the back wears away faster always keeping them nice and sharp!
Beavers are the only creatures, besides humans, that can change their landscape to meet their needs. Beavers chew down many trees and dam up streams to make their ponds. this changes the environment and creates habitat for many other animals - giving greater meaning to the phrase,
​"Busy as a beaver."
---
​God gave ducks oil glands by their tails that produce special oil which they spread around with their beaks to keep their feathers water resistant? Their outer feathers also interlock, trapping air between the feathers and their skin to keep them buoyant - like their own personal inner tube!
​While they don't actually spend the entire day on the water, they are certainly equipped to splash around for hours on end.

---
| | |
| --- | --- |
| | Did you know that God made frogs with permeable skin so they can live in and out of the water? Frogs can drink and breathe by absorbing both air and water through their skin. But it's a two-way deal because water evaporates through their skin too, drying them out. That's why they like to spend so much time in the water! They also have lungs for when they're on dry land, but when they're in the water, or hibernating, they breathe and drink through their skin. |
---
| | |
| --- | --- |
| God designed woodpecker's uniquely for drilling holes in trees, going after bugs and making their nests. Their brains are able to withstand slamming into a tree at 15 mph, 100 times a minute, or, about 12,000 times a day, without getting brain damage! This has to do with the size and orientation of the brain and the spongy bone structure of its' skull. Also, the beak and neck muscles help absorb the impacts. They close their eyes each time they hit so they wont pop out! Woodpeckers also have a long extendable tongue that wraps around their skull, so they can reach deep into the trees for their dinner – bugs! Yum! | |
---
| | |
| --- | --- |
| | God gave Turtles strong shells to protect them from predators, so that even though they're slow, they're relatively safe. Their shells are made up of around 60 bones covered with keratin – like our fingernails. It's attached at the ribs, vertebrae and shoulders and hips. The design of a turtle's shell displays God's immaculate order. |
Fish gills are similar to lungs, only they take oxygen out of water, while lungs take it out of the air. The bony structure of the gills supports a thin layer of tissue full of tiny blood vessels that absorb oxygen from the water as it flows by. The fish draws water in through the little kissing motions of its mouth, and then push it out over the membrane of the gill slits. Thus breathing!
Cool design Huh!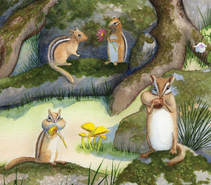 Chipmunks are cute, noisy little rodents that can stash around eight pounds of food in their nests for the winter. They have a pocket in each cheek that serves as a big grocery sack. These pockets, or pouches, can each stretch to be as big as their whole body - or about three times as big as their heads - when packed! They mostly sleep during the winter, but wake up several times to eat from their supply.
No creature has been ignored by the God of Creation when it comes to unique, thrifty design!
---
I will be adding to this page as I go along.