Welcome to Joyful Creations page of awesome and interesting animal facts and tidbits.

This page is designed as a support resource for parents, grandparents and anyone wanting to introduce children to the God of All Creation.

My goal in producing the Joyful Creation series is to reveal clear traces of God's handprint throughout this amazing world around us. I write and illustrate with the intention of pulling back the veil, and revealing the Author of Life. I believe young children can comprehend the truth of God's great wisdom and design when is made plain to them - establishing a solid foundation of looking to God for understanding.
Small children can either learn to take this amazing world for granted, or they can grow in curiosity, amazement and appreciation of the God of Creation, who loves them enough to send His Son Jesus to draw them into fellowship with Him.
---
Did you know that God, in His wisdom created beavers with iron in the enamel on the front side of their front teeth? That's why they're orange in color. They grow continually. The back side doesn't have the iron, so the back wears away faster always keeping them nice and sharp!
Beavers are the only creatures, besides humans, that can change their landscape to meet their needs. Beavers chew down many trees and dam up streams to make their ponds. this changes the environment and creates habitat for many other animals - giving greater meaning to the phrase,
​"Busy as a beaver."
---
​God gave ducks oil glands by their tails that produce special oil which they spread around with their beaks to keep their feathers water resistant? Their outer feathers also interlock, trapping air between the feathers and their skin to keep them buoyant - like their own personal inner tube!
​While they don't actually spend the entire day on the water, they are certainly equipped to splash around for hours on end.

---
| | |
| --- | --- |
| | Did you know that God made frogs with permeable skin so they can live in and out of the water? Frogs can drink and breathe by absorbing both air and water through their skin. But it's a two-way deal because water evaporates through their skin too, drying them out. That's why they like to spend so much time in the water! They also have lungs for when they're on dry land, but when they're in the water, or hibernating, they breathe and drink through their skin. |
---
| | |
| --- | --- |
| God designed woodpecker's uniquely for drilling holes in trees, going after bugs and making their nests. Their brains are able to withstand slamming into a tree at 15 mph, 100 times a minute, or, about 12,000 times a day, without getting brain damage! This has to do with the size and orientation of the brain and the spongy bone structure of its' skull. Also, the beak and neck muscles help absorb the impacts. They close their eyes each time they hit so they wont pop out! Woodpeckers also have a long extendable tongue that wraps around their skull, so they can reach deep into the trees for their dinner – bugs! Yum! | |
---
| | |
| --- | --- |
| | God gave Turtles strong shells to protect them from predators, so that even though they're slow, they're relatively safe. Their shells are made up of around 60 bones covered with keratin – like our fingernails. It's attached at the ribs, vertebrae and shoulders and hips. The design of a turtle's shell displays God's immaculate order. |
Fish gills are similar to lungs, only they take oxygen out of water, while lungs take it out of the air. The bony structure of the gills supports a thin layer of tissue full of tiny blood vessels that absorb oxygen from the water as it flows by. The fish draws water in through the little kissing motions of its mouth, and then push it out over the membrane of the gill slits. Thus breathing!
Cool design Huh!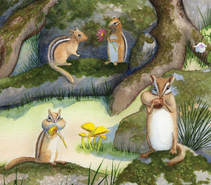 Chipmunks are cute, noisy little rodents that can stash around eight pounds of food in their nests for the winter. They have a pocket in each cheek that serves as a big grocery sack. These pockets, or pouches, can each stretch to be as big as their whole body - or about three times as big as their heads - when packed! They mostly sleep during the winter, but wake up several times to eat from their supply.
No creature has been ignored by the God of Creation when it comes to unique, thrifty design!
---
---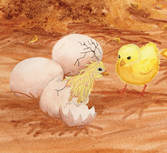 Which came first? The chicken or the egg?
This week we'll look at chickens. Now that doesn't sound very exciting - but just wait a minute. Look at their eggs (any birds egg for that matter). Ever wonder how the chick didn't suffocate in there?
The shell of the egg has thousands of little pores in it. These let oxygen in, and carbon dioxide out at just the perfect rate so the chick doesn't suffocate and can still grow.
You know that little air bubble at one end of the egg - the flat spot? That has the perfect amount of air in it so that – on the 19th day - when the chick does become too big for the oxygen supply it gets through the shell, it can peck into that air sack and have just enough oxygen - about 6 hrs worth - to peck a hole in the shell so it can breathe before it does suffocate. If it were a day early or a day late, it would not survive – That is an incredibly intelligent design! If any part of the eggs design were altered at all, the chick would not make it!
---
---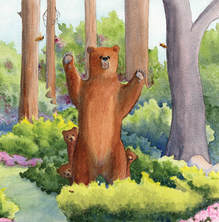 The Bear Facts:
Bears, as well as some other animals have this incredible process built into them called "Hibernation."
In the fall, before the go into hibernation, bears gorge themselves, putting on around 30 pound a week! All that stored fat will enable them to survive the cold winter. (Bears are omnivorous, like us, and eat fruits, vegetables and meat.)
They prepare their den in caves, hollowed out trees, or burrows, just big enough for the bear and her cubs, if she has any, to fit into. They pad it with leaves and other plant materials and when the time is right, they climb in and snuggle up for the winter. Once they go to sleep they don't move much at all. Their heart beat slows way down and can go as slow as 8 beats a minute! Their breathing and whole metabolism slows down with their body temperature dropping dramatically to conserve energy. They can sleep for up to 100 days without eating, drinking or any of the bodily processes that go along with that. Watch out when they wake up in the spring though – they're pretty hungry by then.
Another wonderful example of God's great wisdom and intelligent Design!
---
---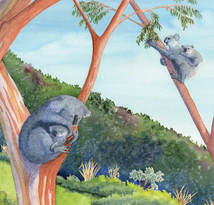 Koala Curiosities:
Koalas aren't bears. They're marsupials – meaning their young are born very tiny and under developed. The baby climbs into its mother's pouch by its sense of smell (their eyes and ears aren't developed yet) and it stays in there, nursing for 6 -7 months until they're ready to come out.
Koalas only eat eucalyptus leaves which makes them smell like eucalyptus. They get their water from the leaves as well.
They have 3 fingers and 2 thumbs on their front paws. The hind paw has 2 of the toes grown together out to the end. This makes a great comb for their hair.
Another amazingly wise creation by an amazingly wise God!

---
---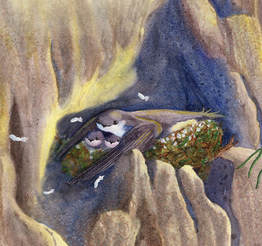 Swifts, Cliff Dweller:
Swifts are small birds that spend about nine months at a time on the wing – at around 10,000 feet altitude – rarely landing! They can eat, sleep, preen themselves, play, etc. in the air. These birds are seldom seen by people because they land only during nesting season, with few exceptions. They leave the nest at dusk to eat, while rearing their young, making a ball of 300 – 1,000 bugs in their mouths to feed their babies when they get back. These nests are made in vertical gaps in cliff walls, sometimes behind waterfalls. They make their nests with the natural material around them gluing it to the wall of the cliff with their saliva!
Another one of God's amazing creatures!

---
---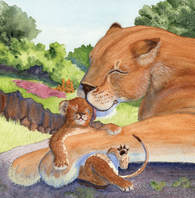 Lions like to lounge around and sleep for 16-20 hours a day. The male's job is to keep watch while the female's job is to do the hunting and care for their young. They may have 10 to 30 family members hanging out with them in their "pride." Watch out when they get hungry! They hunt when it gets dark and work as a team to bring home dinner. A lion can run at 50 miles per hour for a short distance, then the next one picks up the chase like a relay, and they can leap up to 36 feet! Not so good for whatever they're chasing.
In the process of feeding their "pride," lions keep their local population of grazing animals in check.
Another one of God's amazing and unique creatures ~

---
---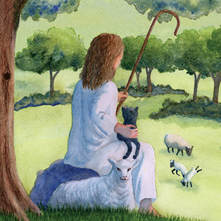 Sheep are creatures often used by the Lord to reveal our own character to us, so, with that in mind, let's take a look at them.
They are pretty defenseless against those that would devour them, but, they're apparently not as dumb as I once thought. They can recognize up to 50 different sheep and people's faces for years and they know their masters face.
But they are just smart enough to be dangerous to themselves.
They are heard animals and will follow their heard anywhere - even over a cliff.
In 2005, 1,500 sheep in Turkey followed their leader to their death over a cliff!
Did your parents ever say to you, "If your friends jumped off a cliff, would you do the same?" regarding peer pressure? Well, they were worried about the sheep-like qualities in us that God refers to again and again in the scriptures. "All we, like sheep have gone astray, each of us has turned to our own way . . ." That's why He gave us a Shepherd.
All in all, sheep need their shepherd, and we need our Shepherd too!
Have a wonderful week!

---
---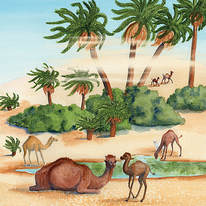 Camels are uniquely designed for life in the desert. They've been extremely useful to people for traveling across these large arid expanses throughout history. What are the unique design features camels have that enable them to do this?
Camels can drink up to 40 gallons of water at a time, but, it's not stored in their humps – they store fat in their humps. The camels body transforms this fat into food and water as needed. Most creatures can only loose about 15% of their water content before they become dehydrated – a camel can loose up to 25%!
They have long eyelashes to shield their eyes from blowing sand, and their fur reflects the sun, helping to keep them cooler inside.
Camel's nostrils are truly amazing in their design. They can close when there's too much sand blowing around them. The inside of the nostrils is lined with tissue that absorbs water from the air as the camel exhales. This moisture is then recirculated back into the camel's body for continued use! This process also works in reverse, using evaporative cooling to cool the camels core when it gets too hot – like sweating. Scientists have studied this design to help them with desalinization processes and retaining water for growing gardens in the deserts.

---
---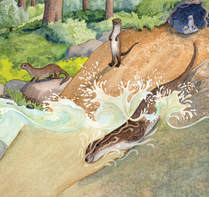 Otters are playful, water loving animals. They make their homes along rivers, streams and lakes with easy access to the water – using rocks and brush for shelter and protection. They're designed for easy maneuverability in water, using their whole bodies to glide along – undulating up and down, paddling with their back feet and using their tail like a rudder. When swimming, otters can close their ears and nostrils to keep water out, and can dive down to 60 feet, holding their breath for 4 to 8 minutes at a time. They have thick, sleek fur coats to keep them warm. Their fur is also perfect for sliding into the water and doing belly-flops.
Otters are at home on land as well as in the water, but still like to slide along on their bellies whenever they can – run, run, slide, run, run, slide . . . Sometimes you can see their slippery sliding spots along the banks of a waterway. Snow is another perfect playground for otters.
They are carnivores, eating fish, frogs and other little critters, so they need healthy clean streams and waterways for their survival.
Another one of God's amazing creations!

---
I will be adding to this page as I go along.